Mike Bost's 12 County Tour
I believe the best way to represent our district is by keeping in touch with its people. That's why I launched a 12-county tour of the 12th District during the April district work period. Stops on my tour included meetings with groups of constituents in my district offices, laying a wreath to honor our heroes at the VA cemetery in Mound City, volunteering with Meals on Wheels in Alton, reading to elementary school students in Carbondale, hearing from job creators throughout Southern Illinois, and receiving feedback from military spouses in O'Fallon.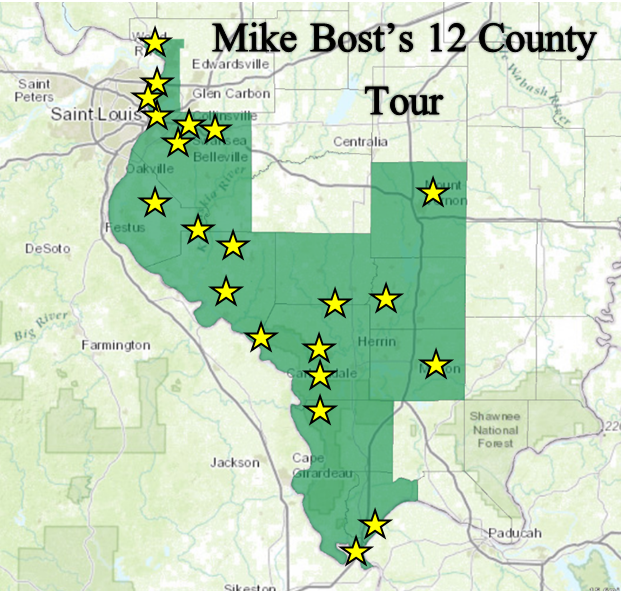 I always look forward to my tours through Southern Illinois that take me to every corner of the district I have the privilege to represent. I pack my schedule with a wide variety of events and meetings in order to stay grounded in the community and continue to hear the thoughts and feelings of Southern Illinoisans like you.  It's my hope that we can find common ground and create commonsense solutions to resolve many of the issues facing Southern Illinoisans today. Below are some of the highlights from my visits.
Alexander County
I met with the Cairo Public Utility Company and the Illinois Municipal Electric Agency to discuss public utilities in Alexander County. Cairo Public Utility Company is an Illinois not-for-profit corporation that operates a combined municipal electric, natural gas, internet, hardware store and sewage treatment utility.
Franklin County
I joined  two dozen Franklin County leaders from the Benton/West City Economic Development Committee at Benton's Franklin Hospital to get updates on local economic development and answer questions about federal funding.
Jackson County
It was great to see in-person the state-of-the-art Gavilon grain terminal in Jackson County. Facilities like these make it easier for producers in Southern Illinois to move their products to market. During harvest when time is of the essence, this facility is vitally important to keeping the combines rolling.
I visited the children at the Carbondale center of SIU Head Start and stopped by each classroom and read to a group of children. It's a great environment where children can grow mentally, socially, emotionally and physically.
Jefferson County
I visited Phoenix Modular Elevator (PME) in Jefferson County to congratulate them on the grand opening of their new production facility. The visit included a factory tour with PME president Allison Allgaier and Mt. Vernon Mayor Mary Jane Chesley.
Madison County
I volunteered in Alton with Meals on Wheels. This program not only cares for seniors who wish to remain at home, it also helps save money long-term by reducing the need for more comprehensive and expensive institutional care. 
I was honored to present the Bronze Star Medal on behalf of a grateful nation to Specialist Fourth Class (ret.) Stephen Baldwin. As many who know him and served with him have said, nobody deserves this medal more.
Monroe County
I was privileged to receive the Spirit of Enterprise Award from the Waterloo Chamber of Commerce for my support of pro-growth, pro-jobs policies in Congress.
Perry County
I love touring small businesses in Southern Illinois and talking with entrepreneurs about the vision they have for their operations. I thoroughly enjoyed touring St. Nicholas Brewing Company and meeting with several of Perry County's mayors.
Pulaski County
With this April 2017 marking the 100th anniversary of World War I, I placed a wreath in honor of World War I veterans at the Mound City National Cemetery and met with members of the Mound City National Cemetery Preservation Commission. We are forever indebted to those who have given the ultimate sacrifice for our great nation.
Randolph County
I toured Kaskaskia Regional Port District facilities in Baldwin. KRPD is a vitally important local economic development entity focused on the rivers and the territory in Monroe, Randolph and the southern half of St. Clair County.
St. Clair County
What began as a modest effort to address missing manhole covers and broken streetlights in the Emerson Park neighborhood of East St. Louis has become one of the largest and most proactive community-based organizations in the Metro East area. It was great seeing first-hand the work being done at Emerson Park Development Corporation.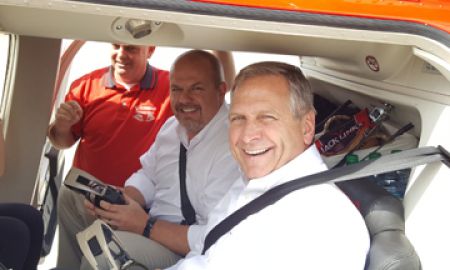 It was a pleasure to learn more about R.J. Corman and the services they provide to railroads in Illinois' 12th district and beyond. As a member of the House Transportation and Infrastructure Committee, I will continue to support surface transportation programs with certainty and stability to ensure that America's businesses, workers and farmers are able to efficiently and affordably ship their products to consumers in the U.S. and the world.
I convened a round table meeting to seek feedback from military spouses about their personal experiences and additional ways that my office can be a helpful advocate for them in the future.
Union County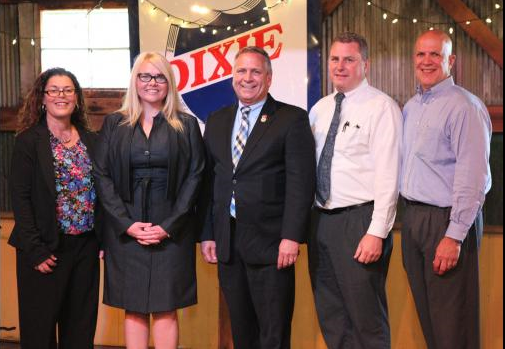 I received an award from the Union County Chamber of Commerce for my support of pro-jobs policymaking that helps strengthen our nation's spirit of enterprise. I appreciate the support and look forward to continuing our fight for job creation and small business growth.
Williamson County
I met with representatives at the Franklin-Williamson Child Advocacy Center in Herrin. They are truly dedicated to serving the best interests of children who have been sexually or physically abused.
If you missed me in your county during this tour, don't worry I will be back soon. I believe that's the kind of accessible and accountable representation you deserve.