Bost Honors Southern Illinois Family in Fight Against Opioid Abuse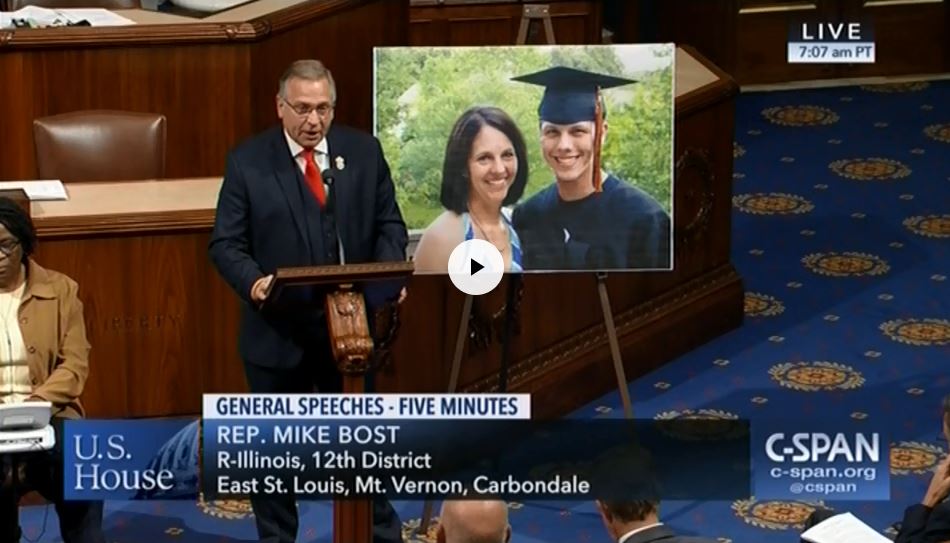 Rep. Bost speaks in support of legislation to fight opioid crisis.
Washington, D.C. – U.S. Representative Mike Bost (IL-12) voted this week for a series of House bills to help stem the tide of the opioid crisis devastating parts of Southern Illinois and other rural communities across America.  In rallying bipartisan support for the legislation, Bost shared the story of Charles "Chaz" Karidis, a 23-year old Madison County resident who lost his battle with a heroin addiction in 2013, and his mother, Kari, who turned the family's tragedy into a mission to help families and friends of people suffering from addiction.
"Kari Karidis' endless efforts to combat opioid addiction and honor her son's legacy should be an inspiration to any parent," Bost said.  "There were almost 2,000 opioid overdose fatalities in Illinois in 2016.  That's nearly twice the number of deaths from car accidents.  But these aren't just numbers or statistics. They are moms and dads, sons and daughters, neighbors and friends.  I am proud to join Republicans and Democrats this week to pass legislation to fight the opioid scourge that is ravaging our communities.  If we work together, we can save lives and continue to restore hope."
Among the legislative measures that passed the House are:
The Stop Counterfeit Drugs by Regulating and Enhancing Enforcement Now (SCREEN) Act (H.R. 5228)
Provides the Food and Drug Administration (FDA) with stronger recall and seizure authority to disrupt the entry of counterfeit and illicit drugs through International Mail Facilities (IMFs).
The Stop Illicit Drug Importation Act (H.R. 5752)
Streamlines and enhances FDA's tools to intercept illegal products.
Illicit or unapproved drugs enter the U.S. supply chain through IMFs and pose serious public health threats to individuals across the country
Empowering Pharmacists in the Fight Against Opioid Abuse Act (H.R. 4275)
Helps pharmacists detect fraudulent prescriptions.
Facilitates development and dissemination of materials giving pharmacists greater understanding and ability to decline to fill controlled substances when they suspect the prescriptions are fraudulent, forged, or appear to be for abuse or diversion.
BACKGROUND:
According to the Illinois Department of Public Health (IDPH), opioid overdoses in Illinois have increased dramatically in recent years. In 2016, there were 1,946 opioid overdose fatalities in Illinois – nearly twice the number of fatal motor vehicle accidents and more than one and a half times the number of all homicides. Much of this can be attributable to the rise of synthetic opioids such as fentanyl and its analogues. Overall opioid overdose deaths increased 82% between 2013 and 2016; during that same period of time, overdose deaths due to synthetic opioids increased tenfold. The overall drug overdose rate in Illinois in 2016 was 18.9 per 100,000 population and ranks 28th in the country.
A comprehensive compilation of data on the opioid crisis was release by IDPH in December 2017.
###